'I don't always agree with the watches people wear – but I will defend to the death their right to wear them… except for this one.'
As you are probably well aware by now, the crew here at Monochrome-Watches.com have been doing a lot of research into everyone's favorite brand (dry cough) Rolex! We've unearthed some rare gems. (We're about to unearth a few more in the coming days and weeks!) Sadly, when you are out foraging for truffles you have to turn over a lot of stones. Under some of those stones we find hideous creations like this Rolex Explorer II 216570. This one seems to have fallen down from its perch on the ugly tree and hit every single God forsaken branch!
The updated Explorer II 216570, introduced at 2011's Basel is a tribute to the famed 1655 Freccione (translation: Big Arrow) or sometimes: 'Steve McQueen' Explorer. (For those of you about to say "… he never wore the Explorer…blah blah blah" You are right! He wore a Heuer! (or a Submariner 5512.) Anyway, the 1655 didn't go into production until 1971 and by that time McQueen had already been closely associated with his Persol 714 – Double Arrow – sunglasses.) At 42mm it's bigger than its stable mates the Submariner 116610 and GMT Master II 116710 – but smaller than the Sea Dweller Deep Sea 116660 and Yacht-Master II 116681.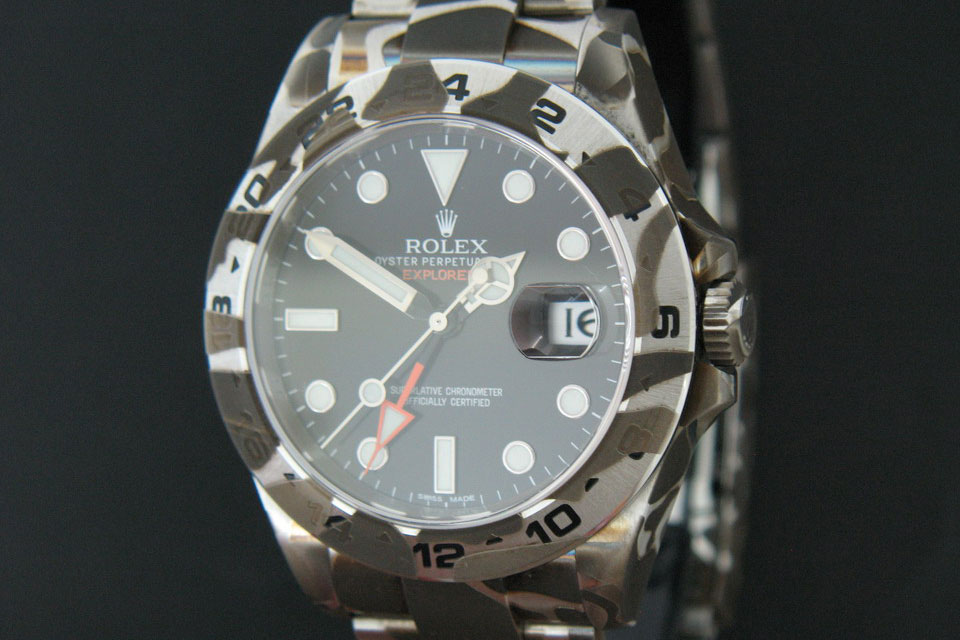 This particular watch started the day as a 904L stainless steel sports watch – fitted with a 3187 Caliber movement – capable of separate hour function on the big orange arrow hand (not meant as a travel aid, per se, but more of a tool for people who spend their time in caves. No I did not just make that up!) Then someone decided to … I don't know… PVD coat? spray paint? Hit it with a tire chain? to create the subtle (dry cough) camouflage effect. The camouflage makes this watch the perfect accompaniment for a person with a 'take no prisoners' attitude in the boardroom and a soldier of fortune in the great outdoors!
So – while this watch is not as heinous as, for instance, the 116598 Daytona, we have to respect the Daytona because someone (we're not naming any names) designed it to look that way. This Explorer II, however, started life as a perfectly respectable sports watch and was made-up to look this way as an after thought. [If ever there was a scene begging to have a phone ring and break a person off from their train of thought THIS would be it.]
If for some inexplicable reason you are drawn to this watch and want to buy it – contact www.filipucci.nl and then please let us know. We would like to have a good laugh at your expense.
P.S. It was not Voltaire. It was Evelyn Beatrice Hall.
Share this:
Click to share on Twitter (Opens in new window)
Click to share on Facebook (Opens in new window)
Click to share on Google+ (Opens in new window)
Click to share on LinkedIn (Opens in new window)
Click to share on Reddit (Opens in new window)
Click to share on Pinterest (Opens in new window)
Related