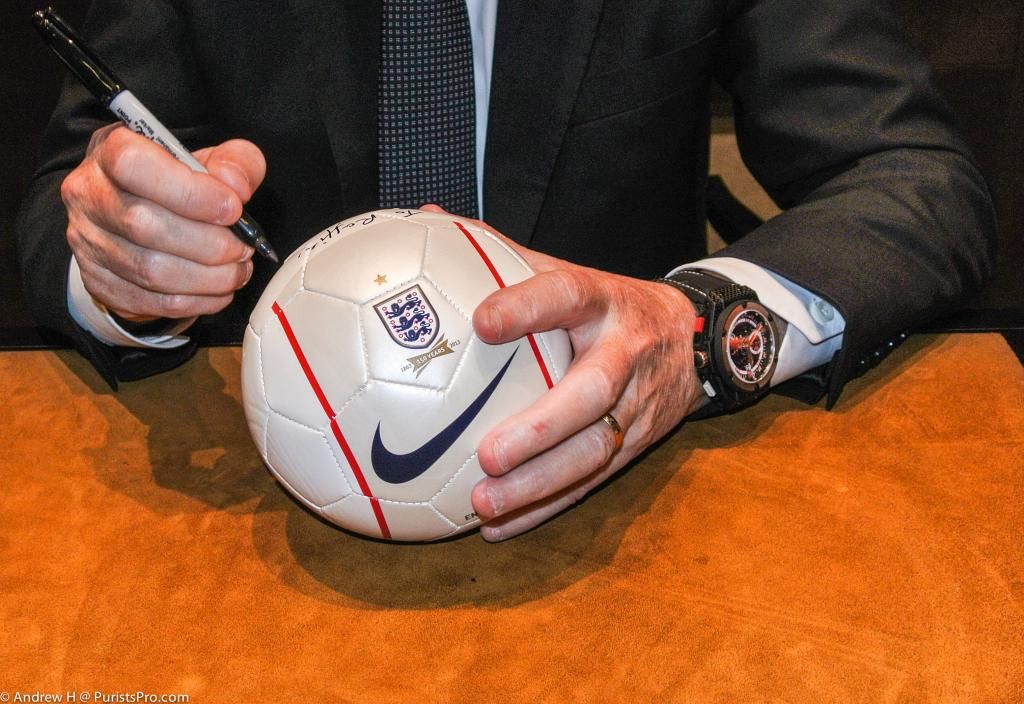 Anyone willing to step into the Lion's Den has to be admired. The man who must carry responsibility for the team that wears three lions on their chest (the insignia of the England football team) has to either be tough skinned, football smart, or be liked by all. It is, because of the "slings and arrows" of outrageous national expectation, one of the most difficult jobs in global football. In Roy Hodgson, England might have found someone with all three qualities. His footballing pedigree speaks for itself: he has coached the national squads of Switzerland, someone else, and some notable premier league sides across Euorpe. He has caught the eye of those in the know for being able to take sides that will probably stand no chance at all, and give them a strategy to make the sum of the parts greater than the expected whole. He deals in fusion! However, even before the World Cup starts, Roy Hodgson (as any England manager would) has come in for a fair amount of criticism. Gary Lineker, the former England striker and now TV pundit, has been fairly open about his belief that Hodgson has the tactics wrong; even to the point of calling the tactics no different from those of the national team used five decades ago (http://www.theguardian.com/football/2013/may/30/roy-hodgson-england-gary-lineker ). But talk to Roy Hodgson, about watches, football, and the association with Hublot, and you cannot help liking the man. He's a "nice chap"! Eloquent, enthusiastic, and with an energy that is apparent to all he talks to.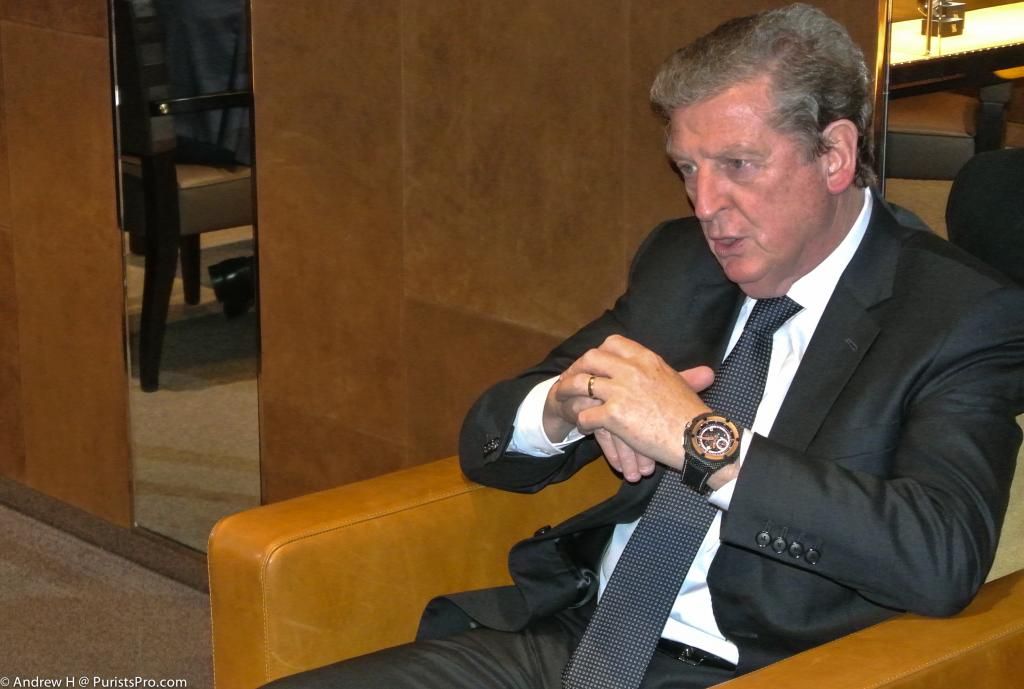 So on a typically English afternoon, where the sunshine turned to showers intermittently, and at the more fashionable end of the road for watches in London: Hublot's Bond Street boutique, I had the chance to discuss watches and football with England's man in Brazil. The World Cup is almost upon the planet, and with all eyes turning to the city watched over by Christ the Redeemer, I asked Roy if there were any miracles in store that could see England win? He was typically blunt and direct in his reply: who knows! There are other teams out there, with excellent players, who wish to win as much as England, and while he has some tactics up his sleeve, you can never tell. The first thing is to get through a difficult group stage, and after that, take the matches as they come. He has not selected players on the basis of reputation. Young players, showing promise (perhaps from teams that are not front rank) have been elevated to the national squad and team. I have to say that I agree with such a policy; if you have no reputation to lose, and one to make, then given your skill set, you might just pull off a surprise. The trick in all this is to get the newer players to blend (or yes, he used the word: fuse) with the current squad.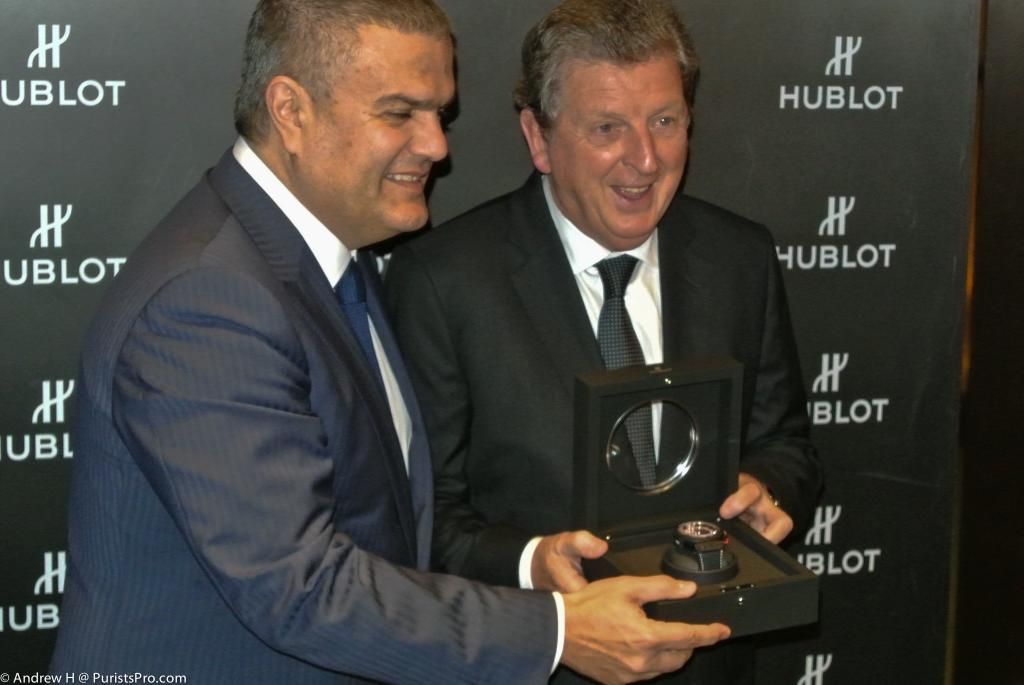 The obvious questions on this occasion centered around the watch and why? It is, lets be honest here, another 'stick different materials together' (otherwise dubbed the art of fusion) type of watch from Hublot, co-branded in a limited edition, and see who wants it. Hublot are not alone in such endeavours in the watch market, perhaps most watch manufacturers are to some extent, but Hublot can certainly claim the high (or low – depending on how you look it) ground on this. On this occasion, the watch materials fused together are carbon fibre, the Hublot King Gold (for the bezel), and ceramic, rubber, and titanium in smaller quantities. Much of the choice and design ideas for the watch actually came from Roy Hodgson's son: Christopher. While Roy does not collect watches, he has acquired watches along the way. A journeyman football manager, who lists Switzerland among the past employers, is bound to have a few watches in the draw! However, this is the first time that there has been a watch named after him, and the first one I can recall for an England manager.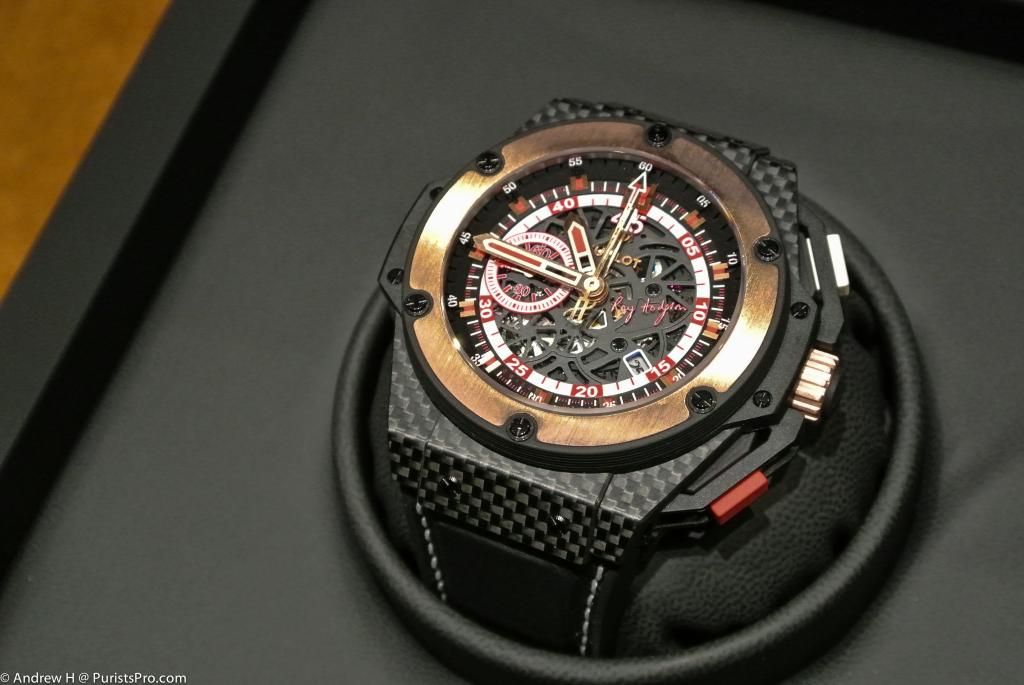 The watch is a chronograph, with features Hublot argue make it particularly well suited for the needs of a football manager. There is a countdown 45 minute counter as well as another sub-dial for marking the seconds. It is basically the King Power something with a couple of new subdials thrown in. Yes, each half of the match is approximately 45 minutes in duration, but that big clock in the stadium, plus whatever the referee thinks, will tell you the time left in each half. The Hublot name is on that clock too as they are the time sponsor for this event and have vested heavily in the football (soccer in some parts of the world) sporting sector. Other brand ambassadors from the "beautiful game" include some of the best exponents ever seen to play: Pele and Diego Maradona, manager Joe Mourinho, and they even have a co-branded with a whole teams: Ajax, Bayern Munchen, Juventus, and Paris St.Germain. But then, one step up from that is co-branding with the whole governing body for the sport: FIFA! And Roy Hodgson is the latest to join their ranks. A little like fantasy football, only each member receives' their own watch!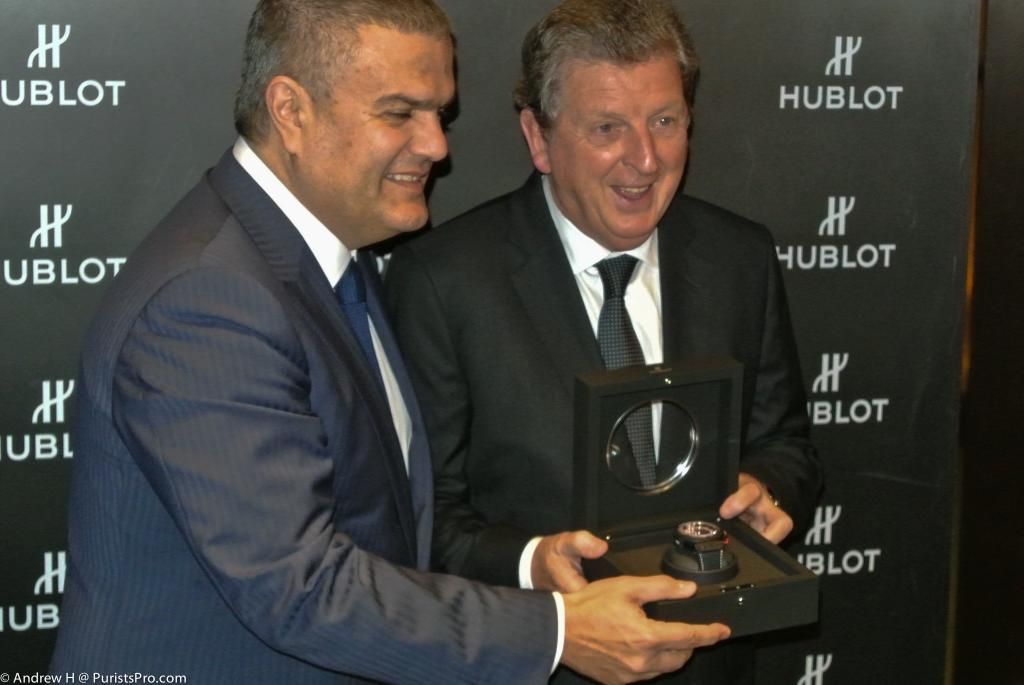 As much as I liked Roy Hodgson as a person, and despite the fact that he has a genuine managerial track record, it is inescapable that he is managing a squad of players who collectively are (on qualifying appearances) not up to the talents that other countries have. Much like the Hublot King Power 66, it is a collection of material we have at hand which has been put together in the hope of producing a winner. Try as you might, to like what you see, that annoying voice in the back of your mind is telling you otherwise.
There will be 66 examples of the Hublot King Power 66 watch, which unsurprisingly takes its reference from the last time England won the World Cup was in 1966, rather than the Lineker claim that Hodgson's football tactics date from that era. The watch comes with a selection of straps and they are imaginatively coloured red, white, and blue. On the back of the watch is an emblem commemorating that 1966 World Cup victory. For all the resources that England football should have at its disposal, from the various contracts from television through to brand sponsors, so much goes on player's pay, hyperbole and marketing, and not on substance (such as developing players and supporting the national team with less call on players by their clubs during and out of the football season).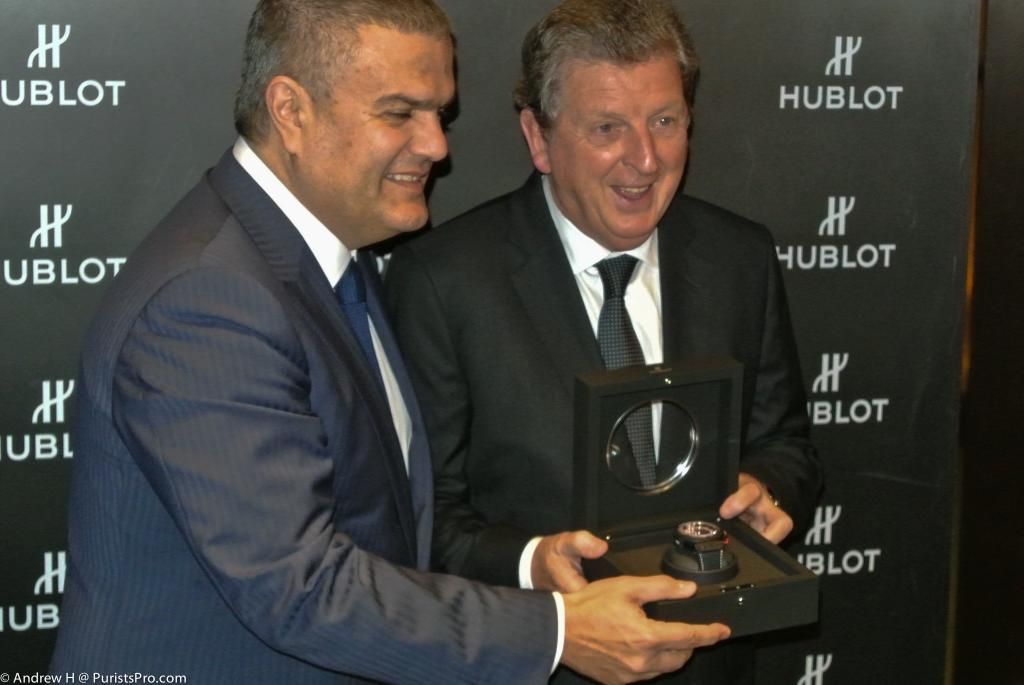 The watch, to my eyes and as far as I can tell, is a little like the England team's play: seen it before, lack lustre, and pricey. I suppose in that sense it is a true representation of England's chances in this coming World Cup! At the end of the the tournament in Brazil we (England) will be wondering when the chance will come to erase the '66 and all that' from the immediate national consciousness when the World Cup comes around next time. I certainly hope that England win that World Cup (although there is no known reason to do so). Let's face it, from a watch sponsor's point of view a limited edition of 18 (2018 will be the next World Cup) is a far more exclusive number! However, given reliance on the same formula year in, year out, the same status quo will continue to grind itself to exhaustion. Sadly, I fear, this will be much like the England games in Brazil.
Andrew H This message has been edited by 219 on 2014-05-05 09:02:51 Thank you so much for your live report.  This is so much better than the press release!
Great report!
KenMuch better than the press release in that it is a honest opinion. Thanks Andrew for the report.  Agree on the watch.  And a limited edition of 66? seriously?
Luckily being half English half Japanese I have two teams to support !
Dean
I tend to agree with you. If you can forgive the marketing hype, limited edition overload and the deep obsession with celebrity culture, many of the Big Bangs are good looking watches with decent movements and innovative case construction. I wouldn't mind this particular one on my wrist, although it's not my favorite Big Bang iteration.
As for England's limited success, I recommend reading the first chapter of Soccernomics (the pdf is available online). The cold hard numbers suggest that England's footballers have met or even mildly exceeded expectations based on population size, national wealth and footballing experience. Of course, the world would be a worse place without all the "England are in crisis" articles that pop up during World Cup season.